[14/11/17~19 (D+1176) to Saariselka]
I had to wait to get out of Russia although there was no other people crossing the border, because immigration wanted to check all my bags with x-ray.
After that, when I just stepped the border, I was so excited and happy. The worker in Finnish Immigration was so kind and smiling at me. I really missed smiling.
Some of them were watching TV and two people helped me. One of them looked like boss was so generous. I asked him it is safe to cycle in Finland because of cars. He said "What are you talking about? It is safe to cycle. No worry. Ah.. yeah.. one thing you must be careful is frostbite now."
After Finnish border, I was looking for the place to sleep in Ivalo. I found the police station, knocked the door, and asked I can set up my tent at a garage. He urged me to come in first because outside is cold. He suggested to sleep at the corridor of the building, because it would be opened in 7 am at the next day. So it would be empty until that time.
At the next day I realized that there are a few companies as well in this building.
Snow seat.
Some berry which I had seen often in Russia
There were a few good things to come to Finland.
1. The driver on a car is very generous and gentle. I am so moved by them.
2. People are very kind and sweet, which makes me happy.
3. Many of people I've faced in Finland can speak English. If somebody doesn't speak English, I can find other English speaker very easily.
Some of people following my journal treated me nuts with the reason I cycle in the winter with the snow.
Look.. In Finland it is normal to cycle with snow. Even many of them do not use a helmet or any special winter bicycle gear.
I go where I want and I love the north.
I was happy to cycle with the snow.
I am happy to be with snow.
Reindeer crossing on the main road. The northern Finland is called Lapland, which has lots of reindeer.
It is so beautiful sunset with the snow.
To me, Uyuni in Bolivia was the best place to cycle. Maybe Lapland in the winter could be the next best place for cycling.
People enjoying snowmobile
There was a big hill. During going on the uphill, the chain which I got in Russia made the problem. I tried to fix it, but it was not easy. I gave up quickly fixing because I did not want to have frostbite with my fingers. (Later I realized the chain is too short. On ebay I ordered new one to the place where I will go).
The more I went up, the worse the weather was.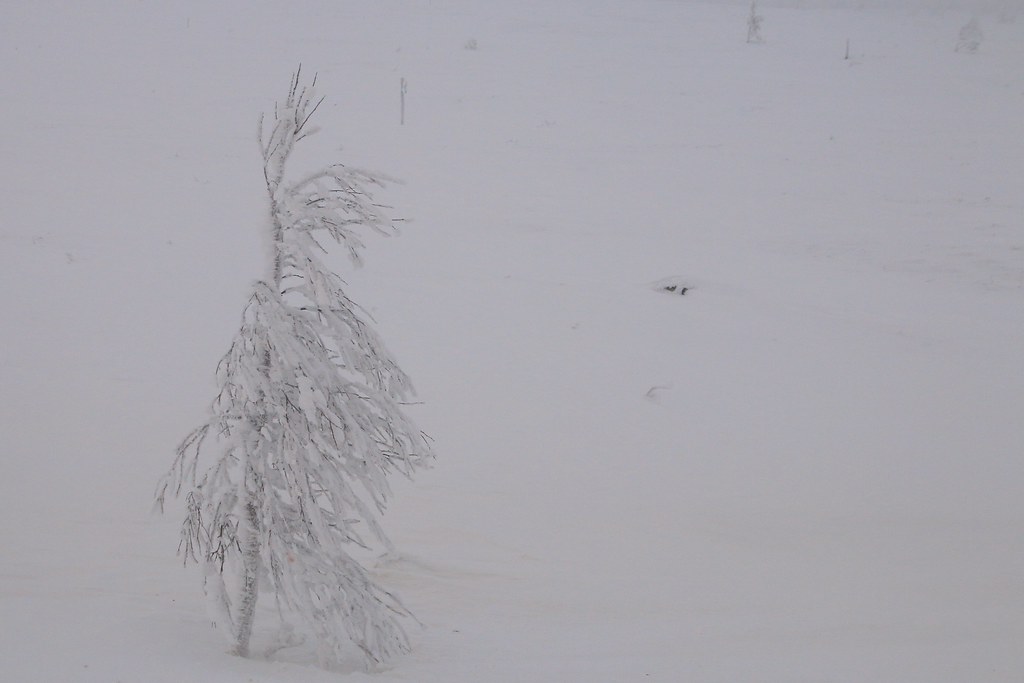 There was a thick fog. The tree looked like having more snow than other place.
Wind was so strong, which gave me too hard time.
After a hill, there was a small village. I could see a big information center there. It was around 2 pm that I had to finish riding today, because the sun will go down after hour. Here is Arctic Circle.
The information center was really good. I was wondering it is some special village. The worker in information center told me that this is very famous tourist place with ski resort, aurora tour, and winter activity. The village name was Saariselka.
I became nervous that how I can find a place to sleep in a tourist place. I asked her there is some fire station or police station. She laughed and told me that this is a small place so it doesn't have the service, but she can invite me at her house.
Oh!!!
I asked her where her house is.
"Ivalo"
Oops.. I came from Ivalo today.
She said she has a car that she can put my things on her car.
Thank you!!
She would finish work at 5 pm, so I walked around.
I asked her there is some volunteer job. But she told me that usually they organized before starting season.
I didn't see Aurora yet. I didn't want to go to the South before seeing Aurora.
By the way I was happy to see snow landscape.
The tree was decorated by snow.
There were many people enjoying skiing. Just before 5 pm I went back to the information center. I put my all luggage on her car.
Her name is Marja(Pronounce is Mariya. J is like y in Finnish). She lives with her husband in a forest that she said if I am lucky I can see Aurora. We talked a lot on a car.
At their house, I could see some special thing.
There was sauna at the next washroom.
She told me that every house has sauna in Finland.
I've never known that Finnish loves Sauna. What an interesting culture.
In the dinner, I was invited at moose?reindeer meat. She boiled potatoes. I smashed potatoes and put the meet on the top, which I followed her way. It looked Finnish way to eat.
After dinner she told me 'let's go for a walk with a dog'
During talking and walking, I saw something suddenly.
And I ran back to the house to bring my camera, tripod, and bicycle.
Yeah!! Aurora!!
I've seen quite lot it when I worked in Yellowknife, Canada. But I wanted to see again, because I missed it. Specially I wanted to take the picture with my bicycle.
Lucky and Aurora
Lucky, Aurora, and me
Kind Marja
Aurora and shooting star!
It was weird. Why the pictures were shaken?
It was my first time to take the picture of the night sky with my new camera and lens. I thought I must fix something. Anyway the Aurora's night passed and I could sleep happily.
Thanks that she let me stay another night. I hurried to walk before the sun goes down on 2 pm.
Their house was just in the forest that it was really good place to see Aurora. Saariselka, which is one of the famous tourist place, was too bright that light pollution was serious. The place would be good for Skiing, but definitely not good for hunting Aurora.  And there was hill that the weather could be quite bad often, I guessed.
I loved the snow scenery.
On the frozen lake
The night came again and I made a test shot. I found the problem that I used the function of Vibration Compensation which protect from shaking. After turning it off, it was no problem. What a mistake I made..
Lovely Finnish night
Her husband, Pasi, hunted a bear this year.
I've heard that in Lapland, Northern Finland, many people enjoy hunting.
Government allows people to hunt only 30 bears in a year on spring time. It means if already people hunted 30 bears this year, then other people have to wait next spring.
Pasi hunted it with two brave dogs. It was interesting, because the dogs looked so cute. I cannot imagine they become fighter.
Bear head
In the night I went out to hunt Aurora again. Wow. Another Aurora. Finland brought me lucky!
haha
There was another weird one. Why was there rings on the center? I tried to figure out and found the problem. It was because of filter. When I removed filter, it was no problem.
Later I heard that it is very famous problem between Aurora photographers. Problem is caused by light reflecting off of an inner lens elements back towards the UV filter. The rings are actually the reflecting light off of the UV filter's inner side. The distortion itself is generally known as Newton's Rings.
Hello Aurora!
It was strong at the beginning, but later it stayed very week all night.
I wish Aurora dances again.
Although it was weak, I was really happy to see it again.
There was leonid meteor shower that I saw many shooting stars as well.
Beautiful Aurora
Kind Pasi and Marja
It has been really long time to see clear sky. Aurora was amazing gift.
I cycled hard to see it in the northern land in the winter.
Thank you.. Aurora.. Arctic Circle.. Snow..